Innova Rapid Antigen Test as a Public Health Screening Tool
The Lifecycle of SARS-CoV-2
To find the solution to COVID-19, we have to first understand how the virus works. The graphic below explains the lifecycle of the SARS-CoV-2 virus.
The virus lifecycle has three periods. Identifying those that are infectious to others in a timely manner is critical to keeping our communities safe.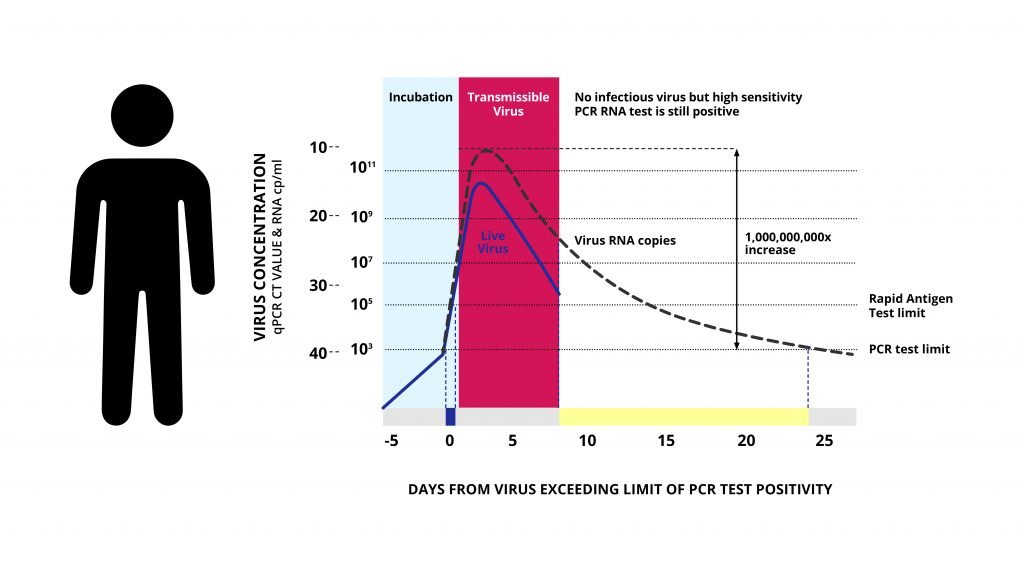 The time between contracting the virus and when the infected individual becomes infectious to others. Typically, 4-5 days.
The time when virus is live and viral load is high, making the infected individual transmissible. Most people infected with SARS-CoV-2 are contagious for 4–8 days.
Specimens are generally not found to contain culture-positive (potentially contagious) virus beyond day 9 after the onset of symptoms, yet high sensitivity PCR RNA test will still yield positive results.
Positives and Drawbacks of Rapid Antigen Testing
Antigen tests detect protein fragments unique to the SARS-CoV-2 virus, which present a large amount when a person is infectious; PCR tests detect the RNA of the virus, which exists long after a person is no longer infectious to others. Studies have indicated that most people infected with SARS-CoV-2 are contagious for 4–8 days. This short window of transmissibility contrasts with a median 22–33 days of PCR positivity (longer with severe infections and somewhat shorter among asymptomatic individuals). 
Rapid Antigen tests can be used to determine whether a person has enough of a COVID-19 viral load to be contagious to other people. These screening devices are usually easy to administer with no machine needed and yields results in just 20-30 minutes, making it an ideal tool to deploy to the field. The mass and frequent use of rapid antigen tests is advocated by leading professionals and can act as a preventive measure without the need of stringent, economically crippling social restrictions.
The intended function of antigen tests is for screening, not medical diagnosis, so span of time in the lifecycle of the virus in which antigen tests can detect it is smaller than in PCR tests.
Antigen tests measure the level of virus load and reduces chances of transmission by identifying infectiousness in asymptomatic, and pre-symptomatic individuals. A negative result in an antigen test doesn't necessarily mean that one is not infected but, rather, not infectious at the moment of testing. Conversely, the function of PCR tests is primarily for diagnosis, detecting the virus irrespective of infectiousness, and will often yield a positive result. For widespread or frequent use, antigen tests have a distinct advantage in that they only take 20-30 minutes to yield results whereas PCR tests take days, during which time additional transmission can occur.
Mass, Rapid and Frequent Testing is Key
Scientists estimate that about 30%-50% of who contracted the virus are asymptotic and 59% of COVID cases stem from asymptomatic spread. To suppress infection in our communities, rapid tests need to be used frequently on a large percentage of the community population to identify those who are infectious to others, not just on those that are displaying symptoms. Scientists recommend mass testing 2-3 times a week for communities to be able to catch and remove infectious individuals from the circulation in a timely manner.
Mass Testing Trial in Liverpool
In November of 2020, the UK Government selected the Innova rapid antigen test as part of a free, voluntary trial, named "Operation Moonshot, in Liverpool, identified as one of the country's worst hit cities for COVID-19.
In a 12-week period, almost half a million people across Cheshire and Merseyside took the Innova rapid antigen tests, identifying over twelve thousand as highly likely to be infectious when they did not know they had the virus and could pass it on, and giving them the result quickly so they can isolate, get their contacts tested and contain the virus in ways that are just not possible with slower, lab-based tests.
The UK government spent billions of dollars in order to deliver 10 million tests per day in what would become the biggest mass testing initiative to date. Operation Moonshot achieved its goal of screening millions of asymptomatic people every day; identifying thousands of infected individuals, and subsequently Innova rapid antigen test kits have been rolled out to 67 more areas by The National Health Service (NHS), all to great effect.
Innova's Solution to the World
Innova produces 15 million rapid antigen tests a day and has delivered more than 500 million tests to over 20 countries globally, making Innova the largest manufacturer and distributor of rapid antigen test kits in the world. According to published results from University of Oxford and Public Health England (PHE) clinical study, Innova's rapid antigen tests have roughly a 97% efficacy in detecting infectious patients. Through its comprehensive COVID-19 testing ecosystem, Innova offers its global customers testing, protocol implementation, COVID status and trend monitoring and community engagement services.
Innova's rapid antigen tests give a head start to self-isolating and tracing contacts and are an invaluable tool in helping our communities stop the spread. Innova's tests can identify asymptomatic individuals as early as 3 days after exposure and can detect different variants of the virus, including strains from the UK, South Africa, and Brazil.