Operation Moonshot


Liverpool Uses Rapid Antigen Tests for Mass Testing
Liverpool Mass Testing Trial Utilizes Innova Rapid Antigen Test Technology to "Unprecedented" Success, Resulting in City-wide and Cross-national Deployment
Operation Moonshot is a UK government program to introduce same day mass testing for COVID-19 in England as a way of enabling large gatherings of people to take place in that country while maintaining control over the virus. The program kicked off on November 6, 2020 with a two-week pilot in the sleepy city of Liverpool.
British Prime Minister Boris Johnson described Operation Moonshot as "unprecedented" with plans to test ten million citizens every single day. Johnson said, "By early 2021, new, simple, quick and scalable tests, using saliva or nasal swabs, would deliver results in as little as 20 minutes."
In many ways, the project reflects Liverpool's response to a cholera epidemic that brutalized it in the 1840's, taking a communal approach and utilizing data. However, this time the city was armed with the latest COVID-19 testing technologies to screen the population. The goal was to keep the economy open and allow people to return to a somewhat normal state.
Over two weeks, more than a quarter of the city's population was tested with Innova's rapid antigen tests, even if they did not exhibit symptoms for COVID-19. Liverpool Mayor Anderson said, "We've got a couple of thousand people now who have tested positive within the pilot and that means two-thousand fewer people are spreading the virus."
These free and voluntary tests were available through an online booking app at various point-of-care settings including hospitals, schools, universities, care homes, and workplaces and anyone who tested positive with a lateral flow test was asked to self-isolate and confirm that result with a polymerase chain reaction (PCR) test.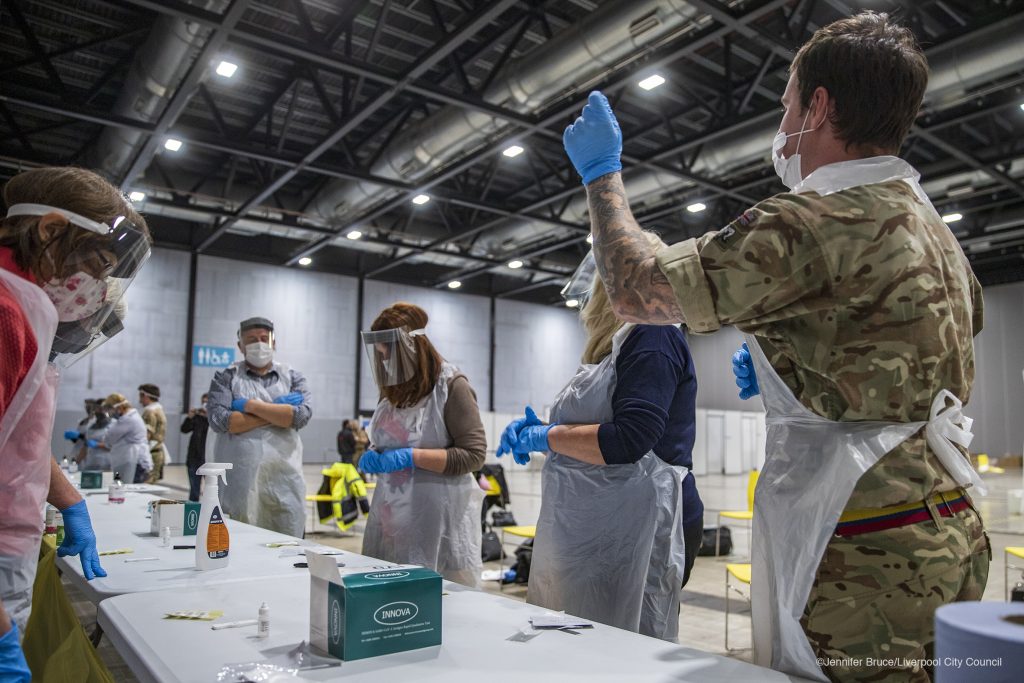 Administration and Interpretation
Liverpool Mayor Joe Anderson described mass surveillance testing as a critical tool in his armory along with mask requirements, social distancing, and quarantining when necessary. Identifying infectious but not necessarily symptomatic individuals in real time is a major preventative measure to further, unwitting spread of the virus.
However, the project posed monumental logistical hurdles, necessitating impeccable, mass coordination to pull off. 153,000 tests were administered by 2,000 soldiers working with the National Health Service (NHS) and University of Liverpool. Teachers, students, and home care workers also participated. Finally, the community itself got involved with an influx of willing participants.
Over two weeks, almost 22 percent of 500-thousand Liverpool residents were tested, even if they did not exhibit symptoms for COVID-19.
Matt Hancock, Secretary of State for Health and Social Care, said "The tests show promising results and I very much look forward to seeing this innovative product [Innova's Rapid Antigen Test Kits] roll out across the entire nation."
Innova's Assistance and Widespread Deployment
Hancock went on to thank the company that manufactured the tests, Pasadena, CA based Innova Medical Group, Inc. "The work you are doing," he says, "has never been more vital. You are helping us keep our country safe and leading us in the right direction to enable us to save more lives."
Innova Medical Group has expertise in testing and diagnostic solutions and is the largest manufacturer of antigen test kits worldwide. On short notice, Innova quickly answered the call to deliver several hundred million of their trademark rapid antigen test kits to the UK for Operation Moonshot.
With the Liverpool pilot's success, the government will distribute Innova's testing kits to 67 other towns and cities across the UK. Public Health England has committed to the manufacture of tests for two years, with projections for Innova to deliver four million test kits per day. Rapid antigen testing could prove a significant solution to safely reopening theaters and sports stadiums. Innova Medical Group worked closely with NHS Test and Trace to stop transmission and drive down the "R rate," which is the number of people one infects with the virus.
"Frequent, repeated testing," Hancock maintains, "with the affordable, Innova rapid antigen test kits will slow the COVID-19 spread and reduce the fear of contracting this invisible virus."
While fear of the virus still looms in most parts of the world, Innova's rapid antigen test kits have been used to great effect in Liverpool during and subsequently after the two-week pilot period, testing over 200,000 people and identifying over 4,000 who did not know that they had the virus.
The program was so successful that the city was able to reopen critical parts of the economy before the Christmas holiday including hospitality and leisure job sectors, preventing a 5 billion pound economic loss. 
Since November 2020, Innova has successfully tested millions in the UK as part of Operation Moonshot. Since March 2021, the Innova rapid antigen test has been used as a vital part of the program to safely reopen schools and the economy in the UK.