COVID-19 Testing Ecosystem
THE SOLUTION TO STOP THE SPREAD.​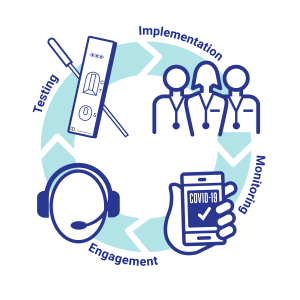 Innova leads in the manufacture and distribution of rapid antigen and antibody test kits for COVID-19 disease detection.​
Innova's integrated solution provides a best-in-class portfolio of diagnostic and screening tests. QMC HealthID™ secure app captures test results and creates a "health passport" for the user. Analytics, powered by real-time data, assist in tailoring protocols to individual use cases: entertainment, government, manufacturing, nursing and care homes, schools and universities and transportation.
The four pillars of success: TIME – Testing, Implementation, Monitoring, and Engagement
Innova Medical Group is backed by science and driven by data.
Innova is one of the world's largest suppliers of COVID-19 rapid tests, producing eight million tests a day. Our tests are 98.98 percent accurate and cost effective. One out of five people, who contract COVID-19, do not know they have the virus as they are asymptomatic. Without a testing strategy, this invisible virus will continue widespread transmission and the pandemic will remain out of control. Innova equips customers with the resources to rapidly test large numbers of people every two or three days. As part of the United Kingdom's Operation Moonshot, Innova successfully tested millions. In the two-week Liverpool pilot study, hundreds of thousands of citizens were tested multiple times. The COVID-19 infectious rate, R value dropped below 1 and brought virus spread under control.

Innova's machine-free, point-of-care testing, which includes the Innova Rapid Antigen test and the Innova Rapid Antibody test, will screen out the infectious so the world can return to work.
.
Coordinating protocol and testing to meet a wide range of needs.
We understand there is no one-size-fits-all solution. We partner with the global leader, Ashfield Healthcare, to design testing protocol to meet the unique needs, even onsite, to keep your business operating at an optimal level.
In designing an end-to-end COVID-19 testing solution, we always think differently for each client to ensure the safety of both their workers and customers. Once a protocol or testing process has been designed, Ashfield Healthcare offers a comprehensive program, flexible enough to meet local guidelines and needs. Highly skilled Clinical Educator teams can train your own staff through in-person education or via virtual tools to ensure social distancing protocols. Where needed, Ashfield has a team of trusted professionals and medical staff who can implement a testing process for improved health outcomes. As a forward reaching, technology-enabled business, Ashfield has created virtual training tools to ensure safe social distancing protocols.
Managing the COVID-19 status of your employee and customer base.
Widespread testing needs to be followed by an easy-to-use, secure tracing protocol. Emerging technologies in blockchain encryption will let individuals securely present their COVID-19 status, directly from a smartphone app. Digital health credentials, such as the QMC HealthID™, will be key to safe entry into a workplace to support employee testing and integrates with other COVID-19 initiatives. Different profiles can be set up for work, school, or travel. Besides showing a real-time, color-coded readout of an authenticated testing status, the app allows users to store relevant health information and, eventually, vaccine status. In compliance with HIPAA and HL7 regulations, no personal health information is stored.

Innova joined with Quantum Materials Corp., a leading nanomaterial and quantum dot manufacturer, to build an end-to-end management platform and mobile app to authenticate testing and document personal health status. The core, cloud-based application, uses an Application Programming Interface (API) to allow external organizations to link to testing results. A positive test notifies public health officials of the need to contact trace and gives researchers a more accurate picture of current hotspots. All monitoring data meets Fast Healthcare Interoperability Resources (FHIR), General Data Protection Regulation (GDPR as well as California Consumer Privacy ACT (CCPA) requirements. Information sharing pushes our healthcare system to be more integrated. The QMC HealthID™ also generates a QR Code which can be scanned for safe entry at universities, restaurants, and sporting and entertainment venues. Quantum Materials Corp., with decades of experience in anti-counterfeiting measures with quantum dot technology, is key to building the infrastructure required for secure collection, storage and sharing of personal health data.
Answering your COVID-19 questions, 24×7.
Effective communication plays an important role in managing businesses through COVID. Innova provides continuous communication to enable users of our COVID-19 testing protocol to get answers to critical questions, on demand. An AI-enabled conversational platform or chatbot offers a step-by-step approach on how to administer and correctly use the Innova rapid test. Questions can range from "How many drops do I put on the test cassette?"  to "What if I test positive for COVID-19?" The chat bot can help interpret results as it is equipped with knowledge about the Innova test and COVID-19 disease. With this smart tool, we will answer users' COVID and testing related questions 24X7.
Innova Medical Group's SARS-CoV-2 Rapid Antigen Test can slow the spread of COVID-19 by identifying "infectious," asymptomatic and pre-symptomatic people.
Check out these other instructional videos:
COVID-19 RAPID ANTIGEN TESTS
QMC HealthID™ SMARTPHONE APP