A New Industrial facility in France, in the Centre-Val de Loire region
In October 2021, the Innova Medical Group inaugurated its first rapid antigen test production line in France, in Pithiviers, Loiret, in the heart of Europe's leading pharmaceutical cluster, Polepharma, which is also headquartered in Centre-Val de Loire.
Accompanied in its search for industrial partners, premises and HR resources by DEV'UP, the economic development agency of the Centre-Val de Loire region, the Loire & Orléans Eco agency and the region's employment players, the American group has joined forces with Axyntis.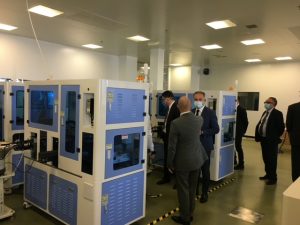 Axyntis will produce "Lateral Flow" rapid antigenic tests, in connection with the COVID19 pandemic, but will be able to redirect them to other viral infections or chronic diseases if necessary. Thanks to this partnership with Axyntis, an independent leader in fine chemicals, strongly positioned in the health sector, and the unfailing support of the regional authorities, Innova Medical Group.
While a first production line has been installed, the INNOVA MEDICAL GROUP – AXYNTIS partnership contract anticipates a possible ramp-up from the beginning of 2022: up to 45 production machines could be installed on site, for a daily production of more than one million tests.
THE INNOVA RAPID ANTIGEN TEST IS CURRENTLY NOT FOR SALE IN THE US